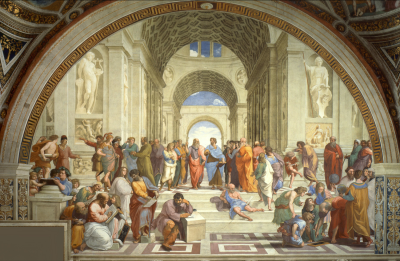 Raphael (d. 2019) describe his work as representing of the "Tradition" of perennial wisdom, avoiding reference to himself or the details of his life.  The Italian publishing house Associazione Ecoculturale Parmenide (formerly Edizioni Aśram Vidyā) has published over 60 books of his in Italian of original works, translations and commentary - including all of the works of the Indian non-dual philosopher Sankara, translations and commentaries on Plato, Orpheus, Kaballah, and Parmenides, and 'dialogues' in which Raphael interacts with spiritual seekers seeking guidance.  Twenty-five of Raphael's books are available in English from the Parmenides Traditional Philosophy Foundation in New York and are published under the imprint "Aurea Vidya" and others have been translated into Spanish, German and French.  Raphael emphasizes that the traditional philosophies of Hinduism, Platonism, and ancient western thought were initiatory or 'realizative' traditions meant to awaken us to living truth through a process of conversion back to our original essence.  His gift was to see the common underlying unity in all branches and expressions of the Tradition, unfolding this in his writings where he makes reference to the parallels and commonalities between philosophies, frequently citing Plato and Neo-Platonism in his writings on Sankara, and vice-versa.  For Raphael, philosophy is complete knowledge and realization, one in which knowing, the known and the knower perfectly coincide.  Raphael offers us a contemporary presentation of traditional wisdom teachings by means of translation and exposition of traditional texts with an explanation of their underlying unity. 
Currently we are in the process of translating works of Raphael into Portuguese as well as assisting the Parmenides Traditional Philosophy Foundation in their translations of his work into English.  In our meetings with Raphael we felt ourselves to be in the presence of the embodiment of Love-Wisdom.  His teachings were alive in the community he founded and all activities there were performed as a living rite permeated by a profound silence.
Information about the Parmenides Traditional Philosophy Foundation is available from: This email address is being protected from spambots. You need JavaScript enabled to view it..
Click here for a selection of teachings from Raphael. 
Click here for a transcript of an interview with Raphael.