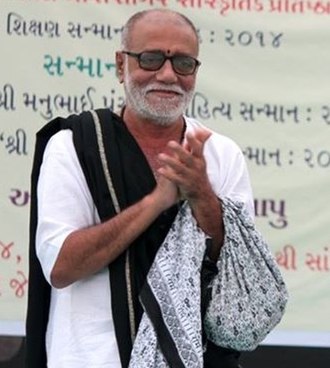 Morari Bapu (1946-  ).  'Bapu' is a contemporary Indian teacher who draws tens of thousands to his teachings based on the Hindu epic the Ramayana.  His grandfather, who was a spiritual teacher and Bapu's guru, each day gave him a section of the Ramayana to memorize during the very long walk to school.  In this way Bapu eventually learned the entire Ramayana by heart and began teaching about it in his teens.
Bapu offers regular eight-day teachings (Kathas) in India and all over the world which are free and open to all and given in either Gujarati or Hindu.  During his over 50-year career of teaching he has offered over 700 kathas.  About these kathas he has said: "Katha is not a religious meeting, it is a conversation about life." In these teachings he often sings kirtan with the musicians who accompany him.  Recordings of these kathas are available on You-Tube and are worth viewing as a way of experiencing the presence and voice of Bapu even if one does not understand the language used.  Bapu is very empathically connected with his audiences and able to deliver profound wisdom in a folksy style that relates to the life of householders and at times while looking at his audience he can be seen to cry. 
Bapu is well known for his extensive charitable, humanitarian and ecumenical efforts which have included providing teachings to sex workers and transgender individuals as well as for ecumenical meetings with leaders of other religions, including with the Dalai Lama. When he was criticized by Hindu religious leaders for his outreach to sex workers and charitable activities on their behalf, he commented:  "That person who sees God in everyone, whom will he oppose? If others want to, they can.  So whatever people might want to say, they can... I don't even listen too much of what is being said. I don't find their statements worth giving an answer to."
To listen to Bapu chanting kirtan click below:
Hare Rama Ra
Hanuman Chalisa
Click here for a selection of teachings from Bapu.
Bapu's website, which contains pictures, English-language summaries of some of the Katha events, video's and music, is:  https://chitrakutdhamtalgajarda.org/
We were introduced to Bapu by some close friends of ours and have had the blessing of viewing his katas streamed live with some of his closest devotees.