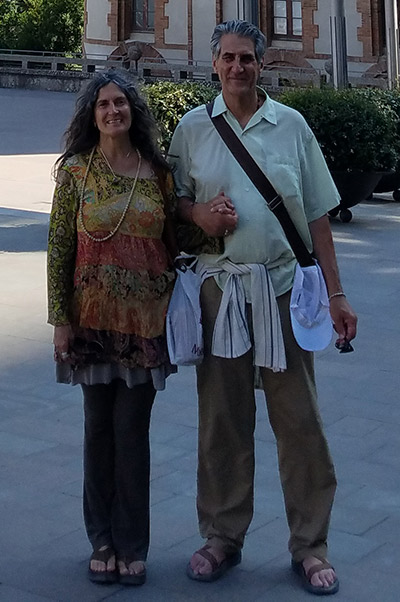 Alan Berkowitz (Micha-El) and Magda Beatriz Berkowitz (Gran) are psychologists and spiritual seekers who have had the opportunity to meet with spiritual groups and teachers on four continents.

They are connected to the work of Trigueirinho in Brazil,  Raphael in Italy, Paul Brunton from England, as well as the work of Boulent from Turkey.

Currently Gran and Micha-El and the co-presidents of The Shasti Association, which is a non-profit organization dedicated to the translation, publication and diffusion of the writings of Jose Triguerinho Netto and other spiritual teachers of evolutionary significance.

Micha-El has been a student at Wisdom's Goldenrod for over thirty years, where he has taught classes and workshops, served on the Board of Directors, and lived as a resident.  He has also served as the Chairperson, Secretary and member of the Paul Brunton Philosophical Foundation, and for a brief period of time was Paul Brunton's personal assistant.  

He is a nationally recognized expert in the fields of drug prevention, social norms, sexual assault prevention, and prejudice reduction who has won five national awards for his work in these areas.
Gran's work as a transpersonal psychologist integrates a variety of approaches to help clients face emotional and physical challenges in their lives. She is founder of "Coming Back Home" which incorporates psychology and philosophy and offers classes, seminars and workshops in English, Portuguese and Spanish in Mt. Shasta, California as well as on line to an international audience.

They have offered lectures and workshops at the Figueira community in Brazil; Sancta Sophia Seminary in Talequah, Oklahoma; the Philosopher's Stone Book Store in Columbus, Ohio; Ashram Vidya in Italy, the Open Center in New York City; the Ithaca Jung Society; "Touch of Health" in Miami Beach, the Rochester Folk Art Guild; the Institute of Permaculture of the Pampas (IPEP) in Brazil and at numerous Churches and faith communities.

Currently they are developing "The Path of Philosophy" work which has its goal of sharing the perennial wisdom philosophical teachings along with what they have learned from their teachers. In Mt. Shasta, California they offer classes, workshops and retreats on these themes.